The Fundometer Widget is used to display a single metric for the event e.g. Total Amount Raised, Total Steps, Total Distance etc. Once you've inserted the Fundomter Widget, there are a few settings available.

This article covers:
Change the Fundometer Image
Within the event editor, click the Fundometer Widget to open the Fundometer Settings


Hover over the existing image, then click to change the image

Drag or click to upload a new image icon from your computer into this slot

Choose to automatically Use Original image size (if you have the correct size), or choose to Crop Image using the resizable grid. You can also zoom in and out, or click and drag to re-position the image within this cropper.
Click Save to apply the changes, then click Done to insert the new image

Save the changes to your event and view your Fundometer image live



Change Fundometer to Progress Bar (Vision 2.0 Only)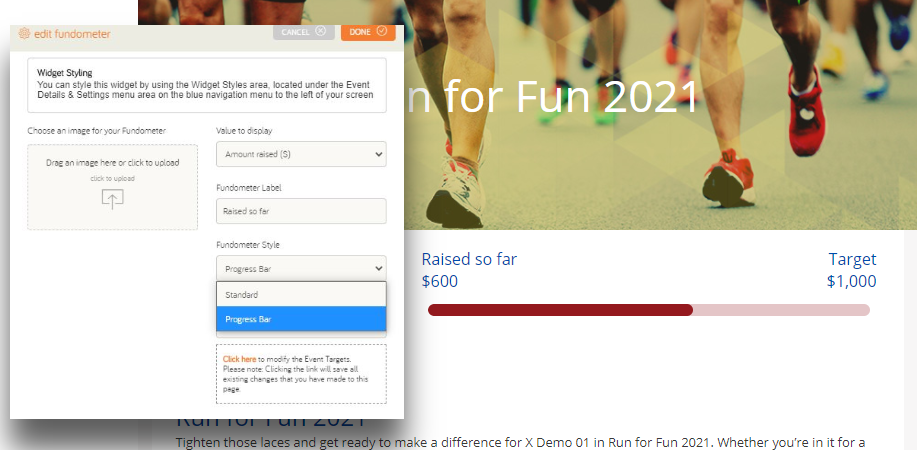 Open the Fundometer Settings pop-up
From the 'Fundometer Style' drop-down, select Progress Bar

Click Done to apply your changes
Save the changes to your page
Note: This style requires an Event Target to be set. See How to set default Event Fundraising Targets.
Display single Activity Metric total e.g. Total Steps (Vision 2.0 only)
Open the Fundometer Settings pop-up
From the 'Value to display' drop-down, select any of the available metrics to display

Click Done to apply your changes
Save the changes to your page