Edit page content and manage the main menu for the event within the Edit Content section.
Starting on the Event Dashboard (), locate the event you wish to edit and click Edit Event (see Edit an existing Event)
From the side bar select the Edit Content tab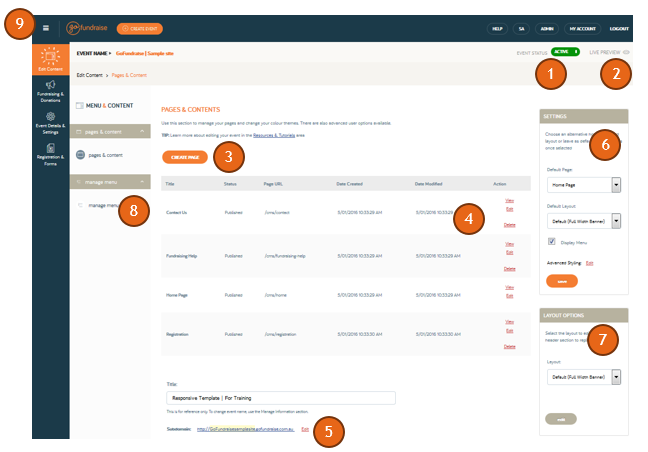 Event Status
Shows whether an event you are working on is Active or Inactive. Click to toggle the event status from one to the other
Preview Event
Click to preview the event. Please note, in preview mode some functionality like hyperlinks, are disabled. Activate the event to test hyperlinks.
Create Page
Create a new page of content. Click on button then follow the prompts
Table of Content Pages
Any pages created in this event will appear here. From here you can Edit, View, or Delete a page.
Event Subdomain
To change the event subdomain.
Global Page settings
Default Page – Choose which page to load when someone lands on the main URL e.g. event.gofundraise.com.au.

Default Layout – Choose from Full Width or Fundraising Widget template layout for new pages (not for use with custom event templates)

Display Menu Checkbox – uncheck to hide the main menu on the event site. Useful for temporary landing pages

Advanced Styling - Add global CSS code through Advanced Styling to alter the template design. Check this box if you would like the option to create a regular giving donation to be available for people donating to a fundraising page
Default Layout Options
Leads to the default content management section where you can Manage default content that appears on different parts of the event template throughout the site e.g. Event Banner in the Header of the site
Manage Menu
Leads to the section where you can add/remove/rearrange the pages which appear on the main menu of the event.
Main Menu
Easily navigate to different parts of your GoFundraise Admin account.