New to GoFundraise? Here is a quick overview of the different sections available if you are logged in as the GoFundraise Admin User for your charity account. If you do not currently have access to these areas and require them, please request admin access through our Customer Care team.
This article covers:
How to login to your GoFundraise Admin account
'My Account' vs 'Admin'
Navigating the GoFundraise Admin area
How to Login to your GoFundraise Admin account
To access your GoFundraise Admin Account, do the following:
Visit the GoFundraise home page for your region:
- Australia www.gofundraise.com.au
- New Zealand www.gofundraise.co.nz
- USA www.gofundraise.com
- UK www.gofundraise.co.uk
Click the person icon () in the top right corner then click Login

Once successfully logged in, click the person icon () again, then click Admin.
(if you do not see Admin then you are not logged in as the user setup with Admin Access. Contact Customer Care to find out which email(s) is setup as the Admin privileges for your beneficiary/event or to request access)
'My Account' vs 'Admin'
My Account is the section used to manage/view your own personal fundraising and donation activity. All users on the GoFundraise platform will have access to My Account.
Admin is only available to users setup with GoFundraise Admin access for your charity account. This allows the user to access the GoFundraise admin area to manage the Charity Account.
Navigating the GoFundraise Admin Area
Now that you have been setup with Admin Access and are logged into the GoFundraise Admin area, here is an overview of what you now have access to as the charity admin. Click each section below for more detailed information.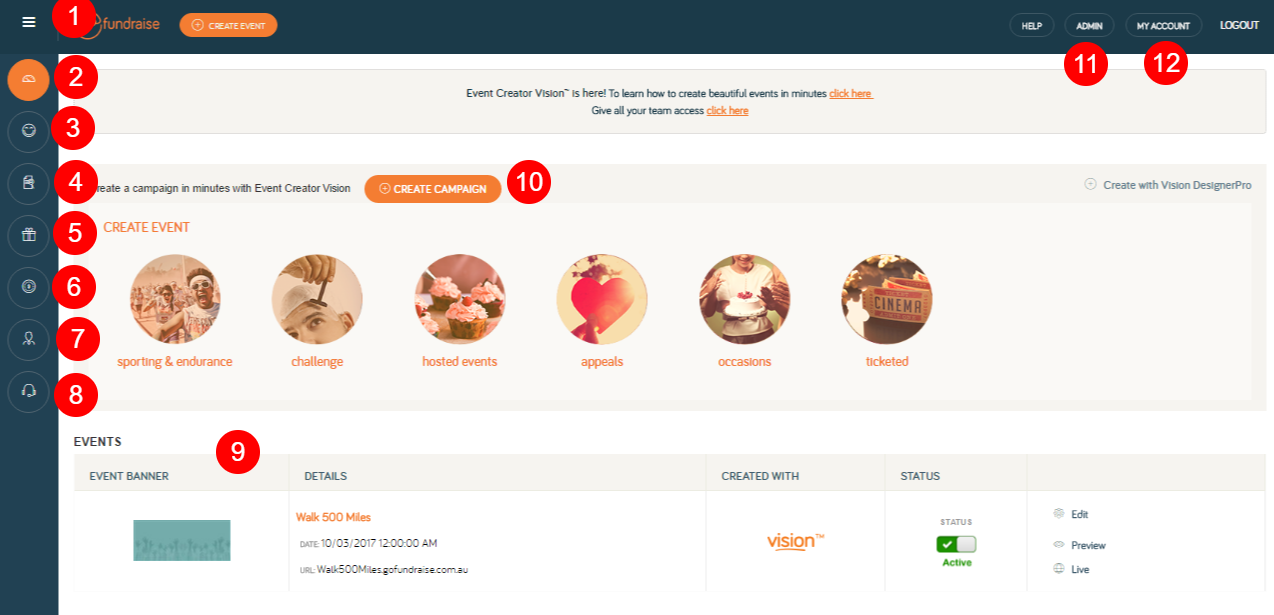 1. Main Menu
Click to collapse/expand the main side menu to gain access to Dashboard, Profile, Real-time reporting, Regular giving, Invoices and Payments, Manage Users, and Help and Support, from anywhere in the Admin Area, event while editing an event.
2. Dashboard
List of events that the logged-in user has been given access to manage. User can create, edit, manage, deactivate/activate, duplicate DesignerPro events etc through this section.
3. Profile
Manage the charity profile information. Includes charity fundraising portal content/style, communication preferences, Donation/fundraising settings, charity profile details, button generator.
4. Invoices & Payments
Access charity payment files uploaded every 2 weeks if donations have come through for your charity – Payment Summary, Remittance, Invoice files.
5. Real-Time Reporting (available with Reporting module)
Access and generate real-time reports e.g. Fundraiser reports, Transaction/Donor reports.
6. Regular Giving (available with Reporting module)
Access details or past and future regular giving donations that are part of a scheduled donation.
7. Manage Users (available with Users Module)
Search and view current fundraiser information including Fundraising page for a particular user, as well as add offline donations.
8. Help and Support
This will redirect you to our Customer Care Help Desk which contains FAQs and guides on the different areas of GoFundraise accessible 24/7 for easy reference.
9. Events
List of all the events you have access to. This is what loads when you click Dashboard.
10. Create Campaign/Event buttons
Click here to start the Event Creator Vision Wizard and create a custom mobile optimised event site in minutes
11. Admin
Click to either access or return to the dashboard of the admin area
12. My Account
Click to access your personal fundraising and donation activity, as well as reset your password or personal profile details