Video 9 - The button generator from GoFundraise on Vimeo.
Use this area to generate customised buttons that can be embedded into a third party site, encouraging your supporters to donate on the GoFundraise platform without having to leave your website.
We recommend asking your web developer to place these on your home page and throughout your website.
This article covers:
What can the Button Generator be used for?
The button generator will generate code for a button that will open up a GoFundraise system page in a pop-up window if installed into a third party website. The system pages currently available to use in this way are:
Where to access the Button Generator
You can access the Button Generator if you are logged in as a charity admin user and accessing either:
Admin > Profile > Button Generator, OR

Visit your charity fundraising portal and click Button Generator.

How to use the Button Generator
Step 1: Select a Pop-Up URL
Select the GoFundraise system page you would like this button to link to and update the Button Text. Button Text will be the text displayed on the button generated. You can see the preview of the button update in real time as you make changes.

Step 2: Button Styling
Upload your logo to change the colour palette so you can use colour codes that match your logo. Change the Button Colour and Text by selecting from the colour pickers
You also have the option of changing the settings of the Pop-Up window and overlay.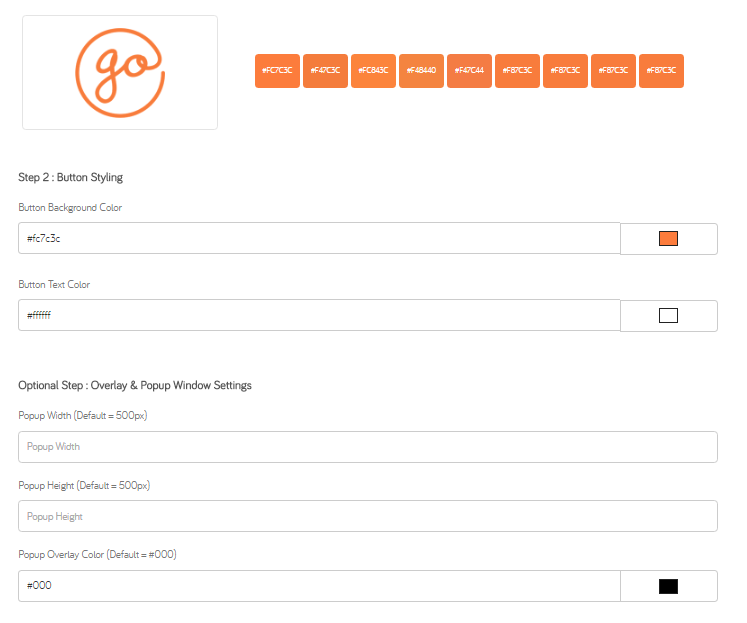 Step 3: Get Code and install on third party website
Click 'Get Code' to generate the code required and instructions on how to install it into your third party site. Simply copy and paste the code according to the instructions provided.