To understand how to promote your digital campaign, please make sure you are familiar with the definitions of 'Digital Campaigns' and 'Peer to Peer Fundraising'. If you require more information, please see the relevant articles.
We've created the following Marketing Matrix to help you plan how you'll promote your campaign. It is important to identify what you're doing in each section below (eg: what your topline KPIs are, which fundraising pillar your campaign is in and how you're marketing it):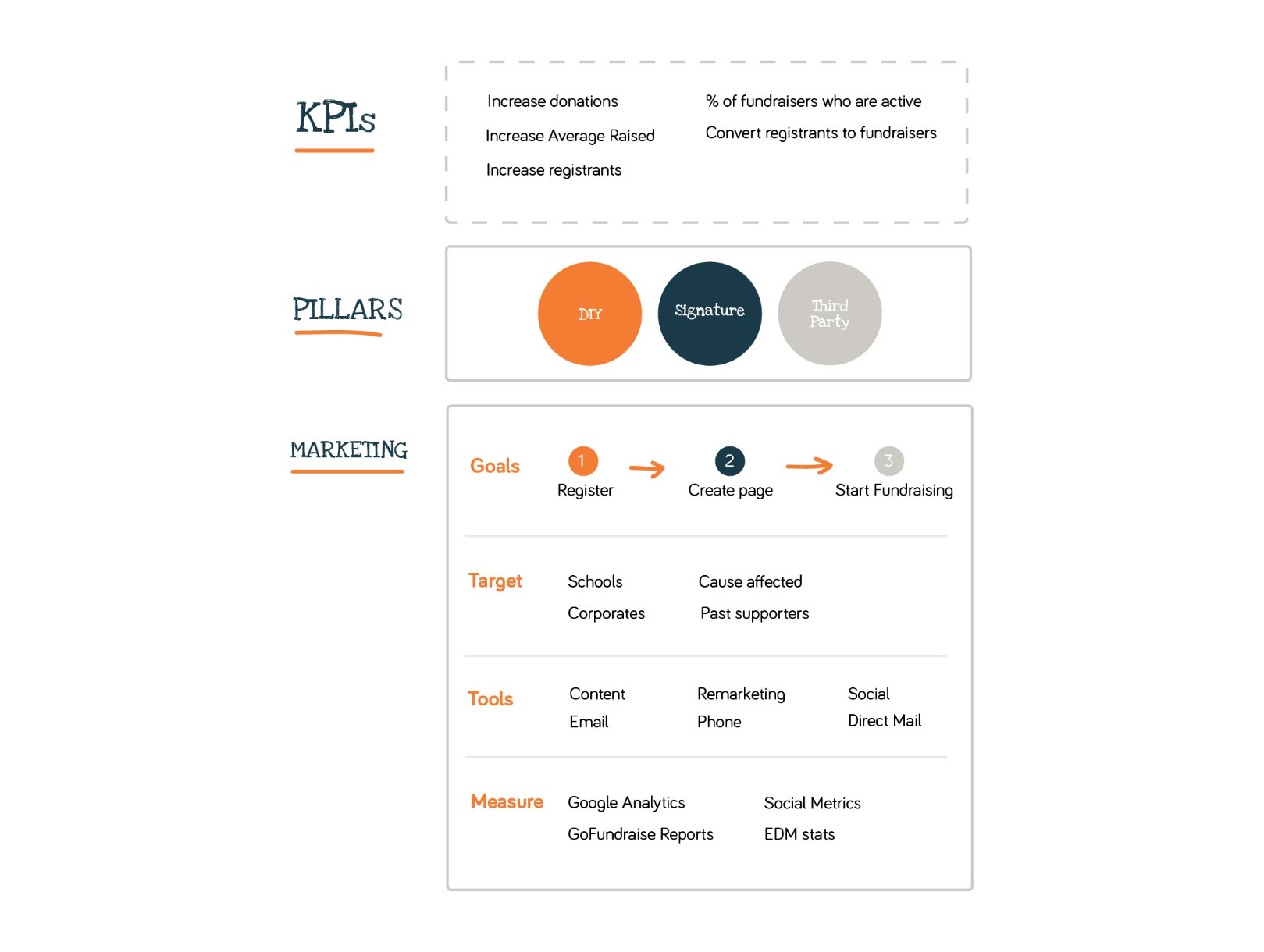 Set Your KPIs:
Why did you create this campaign in the first place? It is important to have this set to work out how you are going to measure success.
The Pillars
It is important to understand which of the three pillars your campaign is in – or perhaps you're working across multiple pillars to achieve your KPIs). The 3 pillars are:
DIY: for more information, click here to download our DIY whitepaper.
Signature: for more information, click here to download our Signature whitepaper.
Third Party: for more information, click here to download our Third Party whitepaper.
Market Your Campaign:
When you're ready to start promoting your campaign, we recommend setting some clear goals for each component of your campaign. This will help measure success for everything you do. These goals will be things like: "register for the event", "create a fundraising page", "start fundraising" or "donate". For each of your goals, you can create a marketing plan around how you'll achieve them.
You will also need to decide who you want to target to help reach your goals: these may be schools, past fundraisers, cause affected or people interested in your type of event.
Once you've worked out your goals and your targets, you can use any or all of the following tools. We recommend mainly promoting your campaign using digital methods because: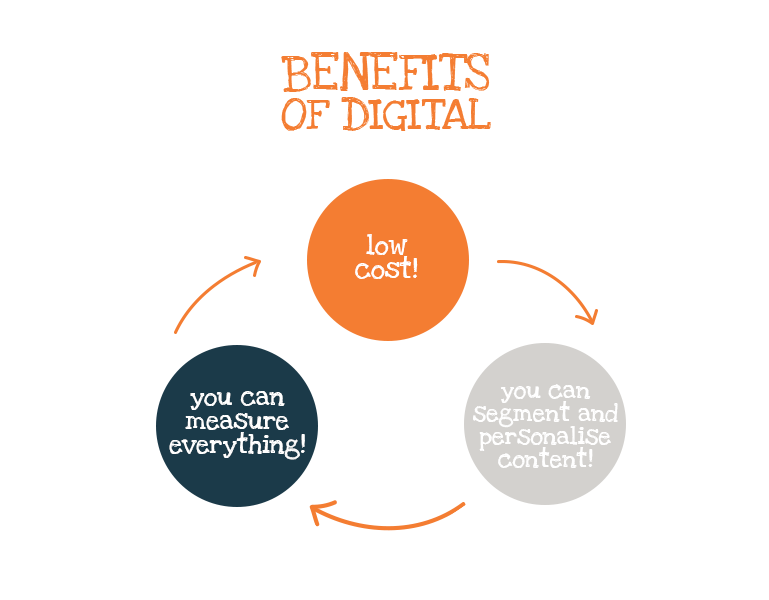 DIGITAL TOOLS:
Content
You'll need good content to promote your campaign: this may include videos, visuals, copy explaining your campaign etc.
CharityDOs
CharityDOs is a free service (and a partner of GoFundraise) where you can list your fundraising event or appeal. Fundraising events listed on CharityDOs.com.au are promoted on the CharityDOs fundraising events calendar, CharityDOs Facebook, CharityDOs Twitter, search engines, and CharityDOs Newsletters and Promotional Emails. List your event here: http://charitydos.com.au/list-your-event
Email
There are lots of Email Marketing companies out there that you can use to send your campaign. When emailing, where possible – try to segment your database to personalise your messaging. Eg: past participants should receive a different email about your event than new ones. Once they're registered, segment your fundraisers based on how much they've raised for you – and whether they've reach their goal. 
Social Media
there are lots of different social networks. We find Facebook to be the most successful one to use when promoting a campaign. It is important to note that to get the most out of Facebook, you need to invest in it. You may do this through:
Promoting posts
Running ads targeted to people based on interests
Running ads targeted to custom audiences (based on your database)
Creating lookalike audiences through Facebook and marketing to them.
Remarketing through Facebook (targeting people who visited a certain page on your website with ads on Facebook). 
Remarketing
What is remarketing?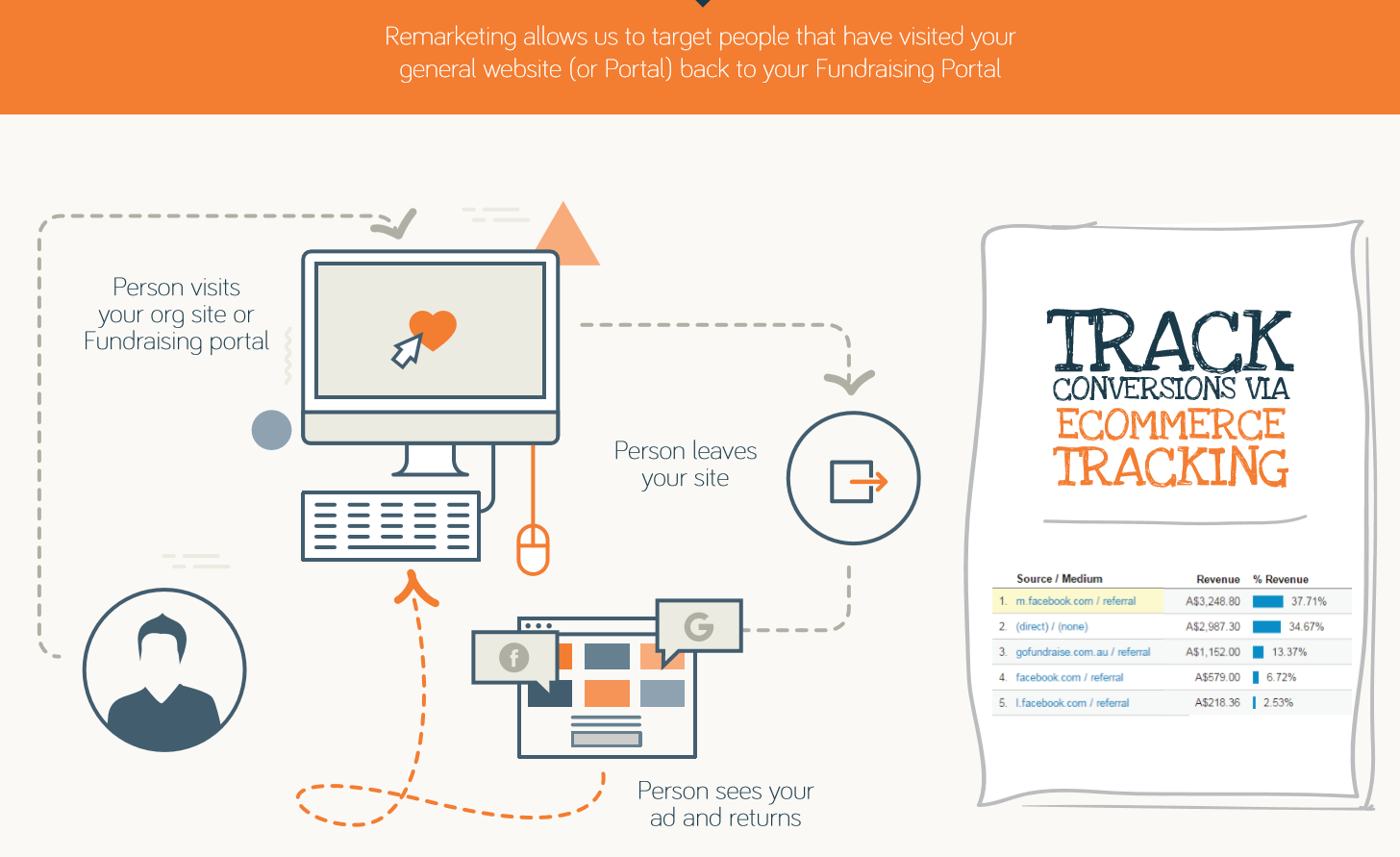 If your goal is to drive registrations, you might put a pixel on your event page and target ads to anyone who visited your campaign. But if your goal is to drive engagement and get supporters fundraising, you might put a pixel on the registration confirmation page and target all registrants with messaging about "start fundraising now".
Measure everything!
One of the key benefits of marketing using digital is that you can measure everything. One of the most popular ways to measure digital campaigns in through Google Analytics. You can also use social metrics, stats from your Email Marketing platform and you can get data from your GoFundraise reports. When deciding how you will measure a marketing campaign, remember to refer to your original goals – what was the purpose of the ad? Once you know that, you can decide how to measure it.
For more information on how to promote your digital campaigns, you can watch this webinar that Henry and Anthea from GoFundraise recently presented: https://vimeo.com/179271947/cce567f178