There could be a number of reasons why your data has not synced up to GoFundraise correctly.
1. Subscription Failure for Strava account
You Strava account may have failed to Sync up to GoFundraise. To check if this is the case, re-visit your App Connect tab, and see if there has been a Subscription Failure.

If so, click Re-Subscribe to Strava Activities and your account will once again be synced correctly

2. Sync requires more time
Generally if your page has been synced correctly, you should start to see information appearing on your fundraising page within the hour, however it may take up to 24 hours from when an activity is logged to appear on your Fundraising page. This is because GoFundraise will sync with Strava data once every 24 hours. If you have allowed for 24 hours after logging a new activity since creating the page, and you still do not see any activity on your page, please contact GoFundraise Customer care with your user account and the page you are syncing to. A screenshot of your log activity on Strava will also help.
3. Fundraising page has not been set to Display Fitness Data
After you have connected your Strava account through App Connect, ensure that your Fundraising Page is setup to display fitness data. For more information see how to show your Fitness data on your fundraising page.
4. No activity on your Strava account
You might not have any activities on your Strava account just yet. To check that the connection has worked, log an entry into your Strava account and check back in 24 hours.
5. Activity logged BEFORE the fundraising page was created
Once your Fitness App is connected to your Fundraising Page, only Fitness Activity logged AFTER the date the page was created will display. Any activity logged BEFORE the page was created will not display on the fundraising page. Any activity logged after the page was created can take up to 24hrs from the date and time logged to display on the fundraising page.
6. Strava app has revoked GoFundraise permissions to connect
Check the My Apps section from within your Strava account. If you do not see GoFundraise listed here, you need to reconnect your account through GoFundraise.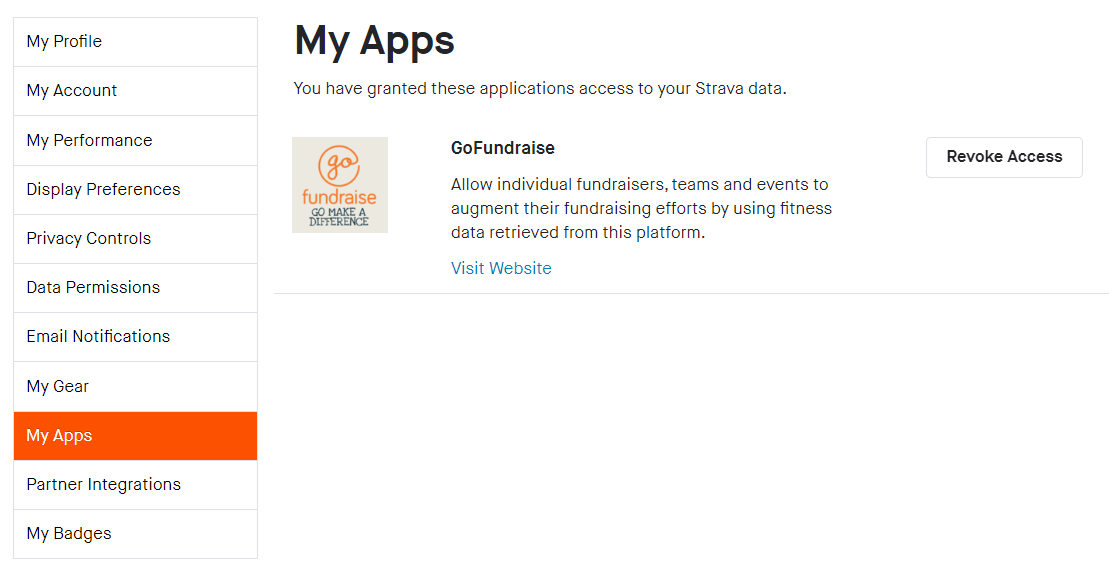 To reconnect, go to your GoFundraise App Connect screen > click 'Disconnect this account or use another' for Strava > then click Connect to Strava following the prompts to reconnect.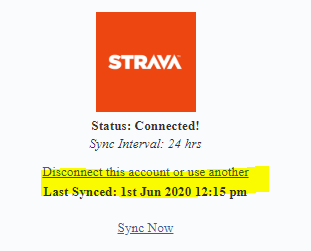 Return to the My Apps area in Strava, you should see GoFundraise listed.