To streamline the financial records provided each fortnight, we've made some changes to the Payment Summary file to only display columns of information about transaction paid out.
What are the changes?
The New Payout Summary will now include:
Donor Pay transaction amounts as a separate line item (see How Donor Pay displays in Payment Summary)
Parent/Sub-fund details if relevant
Clear indication of columns relevant to a GoFundraise fortnightly payout
The payout summary will no longer show:
Fundraiser and donor personal details
Offline donations and Workplace Giving amounts
Percentage rates of fees per transaction
Redundant columns e.g. Payment Status since all payments which are paid out have been successful
The payout summary will only show:
Details relevant to the reconciliation of funds between GoFundraise and the beneficiary (payee).
The dollar value of merchant and processing fees per transaction
Gross and Net amount per transaction item
Items which are processed online through GoFundraise (credit card/PayPal)
Which event campaign a transaction has come through from
Below highlights the column headings from the Old Payment Summary which will no longer appear in the New Payout Summary file.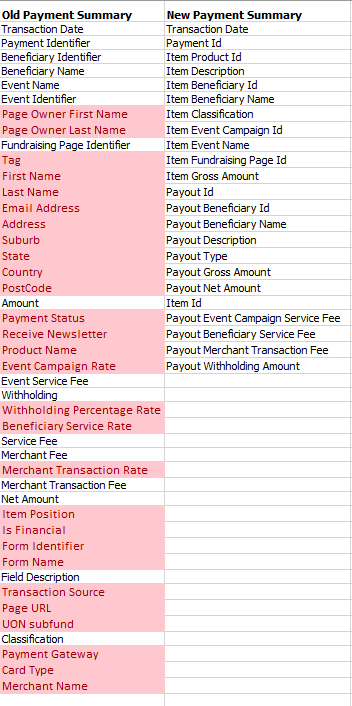 Why have we made these changes?
In the past, GoFundraise could only handle 1:1 relationship between transaction and beneficiary (payee) i.e. one transaction on GoFundraise could only be paid out to one beneficiary/account. Many events on our platform utilise the ability to distribute funds to multiple beneficiaries within the one transaction e.g. a registration entry could be $100 with 10% going towards a chosen beneficiary while the remaining 90% goes towards the Event Organiser account.
The new Payout Summary will clearer show this division for easy accounting.
The old Payout Summary also use to include details which were not necessary for reconciliation purposes e.g. fundraiser/donor address details. We've streamlined the report to only include details relevant to funds paid out.
How will these changes affect your organisation?
Your organisation might have internal processes relying on the format/column headings of the old Payment Summary file. Send the new Payout Summary file to your finance team/person so they are aware of the changes and can adjust their internal processes if needed. During this transition, the Payment Summary file in the original format can be requested by emailing support@gofundraise.com.au up to 31/03/2021.
After 01/04/2021 we will only be generating the new Payout Summary file.


If your organisation has been relying on the fortnightly Payment Summary for fundraiser/donor information, now's a great time to look into our Real-Time Reporting options. Please contact your relationship manager for more information or email david@gofundraise.com.
How Donor Pay displays in Payment Summary
In the old payment summary, you could not see if a donor had opted in to uplift their donation amount (Donor Pay). Now you will see two line items per donation, one of which will have the Payout Description labelled as 'Donor Pay Amount'.
If a donation has included Donor Pay, it will look like this in your payment summary (note the matching Payment Id):


If a donation has opted out of Donor Pay, it will look like this (note the $0 amount).

For reconciliation purposes, the Payout Gross amount and Payout Net amount will all still balance.
Which columns to use for reconciliation?
The 'Payout' columns should be used for reconciliation i.e. Payout Gross, Payout Net, Payout Fees