This article covers frequently asked questions from beneficiaries signing up to GoFundraise US:
What is the sign-up process?
To sign up to the platform, you need to complete the sign-up form available here: https://www.gofundraise.com/training/sign-up/
Once completed, our team will be in touch to connect Stripe to your platform account. This is the last necessary step for us to be able to remit the funds to your organization when someone makes a donation. If your organization does not use Stripe yet, we will share with you the process to set up Stripe (it is free for charities to register on Stripe).
How long does it take to be registered on the platform?
Providing we have all the required documents (specified on the sign-up form) it normally takes about a business day for our onboarding team to create your account. Please account for an additional business day to get Stripe connected to your account.
What are the GoFundraise fees?
GoFundraise offers by default an optional contribution model ("tipping system"). This means that donations made on a fundraising page aren't charged a platform fee (0% platform fee on donations). Donors are asked to make a contribution to the platform if they want to. Whether or not they decide to make a contribution to the platform, donations aren't charged anything.
In general fees are:
Direct Donations & Donations made on fundraising pages fee: 0%
•Donors can choose to give a contribution to the platform
•If opt-out, no fee is payable to GoFundraise
(if applies) Transactions through a form (ticket sales, donations upon registrations) / Deposit Collected Funds: 5%
(if applies) Recurring Giving : 2%
Merchants fees: managed via Stripe
What are the merchants fees/processing fees?
GoFundraise uses Stripe to remit the funds automatically to your account. This is set to be sent to your organization on a daily basis. Stripe is a separate organization so we can't guarantee what their transaction fees are, but in average for organizations with a charitable status, the average fee seems to be around 2.2% plus 30¢. This fee is taken out from the donations you receive directly by Stripe before the funds hit your account.
Why do we require an electronic signature from your organization?
GoFundraise issues automatic charitable receipts on behalf your organization and we need to add an electronic signature from your organization. This is how an Official Donation Receipt looks like: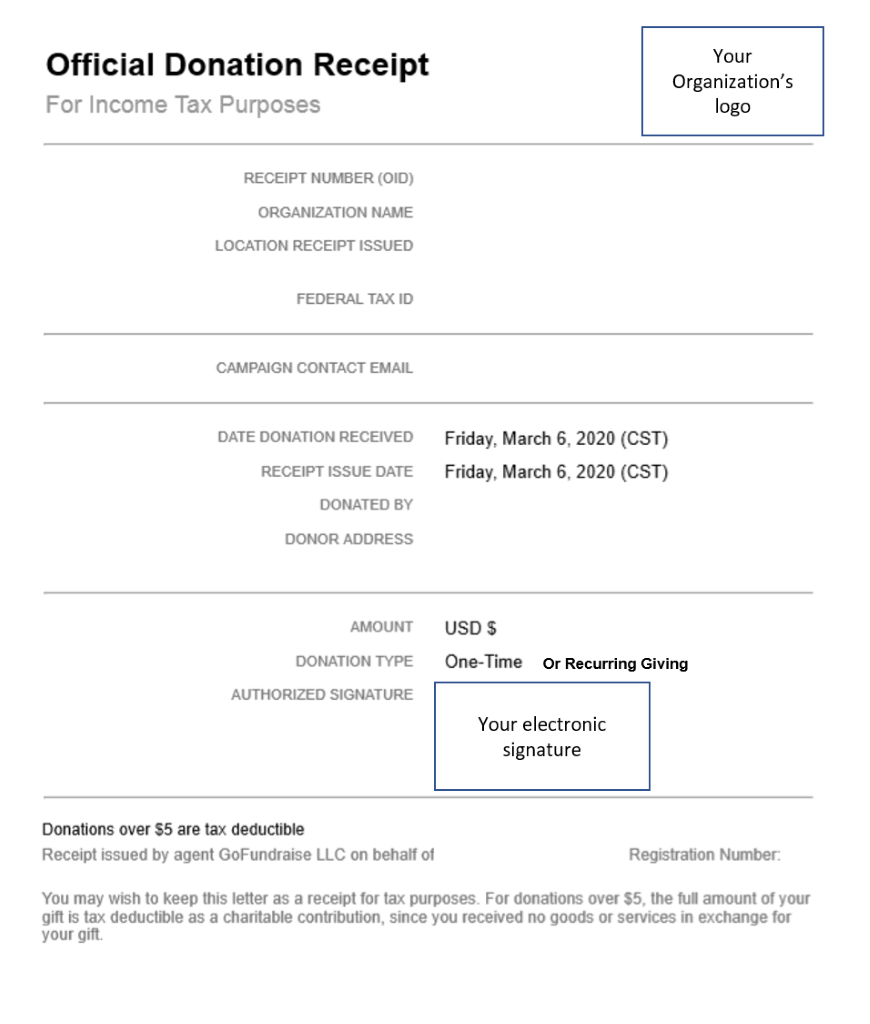 Which reporting access do you get upon registering to the platform?
You will get access to your donors and fundraisers data in real time, all accessible in real time from our Advanced Real Time reporting system.