Donor Pay is an optional feature available to all charities on the GoFundraise platform, that allows you to increase your average donation and offset the cost of fundraising. It appears clearly on all standard direct donation forms (direct to fundraising page/beneficiary) as an option to "Help cover the costs of this transaction" (see How do I Pay extra to cover the cost of fees?)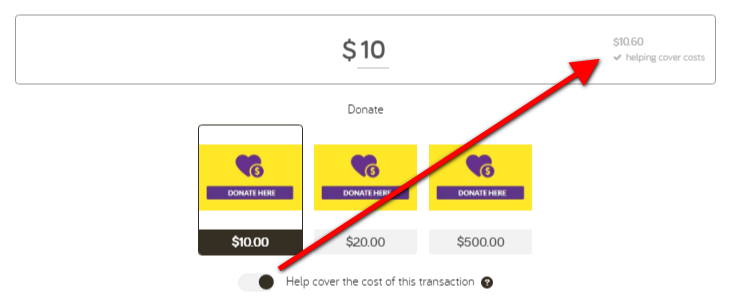 Donor Pay is not available on custom registration forms
Enabling Donor Pay
Log into your GoFundraise Admin account
Go to Profile -> Donor Settings
Click the Donor Pay Status to switch the toggle to active/inactive.
Once Donor Pay is active, you can now further settings should now be available change.
Make changes as needed then click Update to save.
These changes will now apply to all standard direct donation forms for this charity.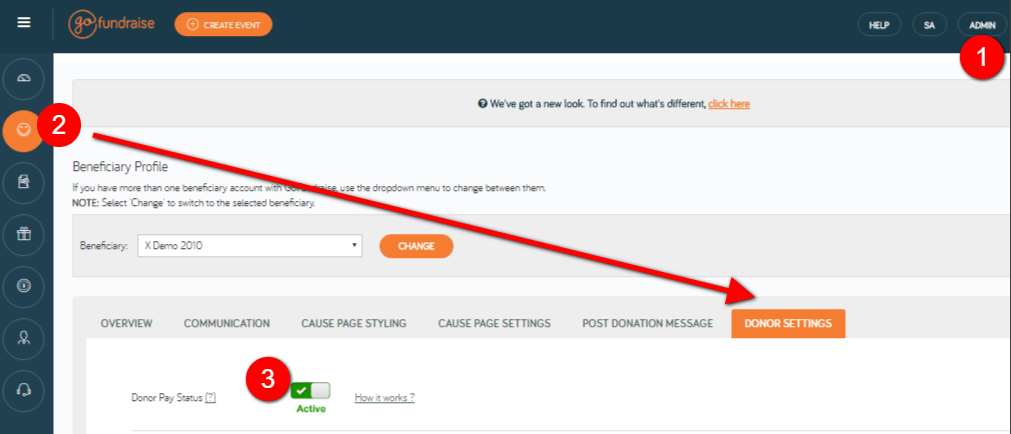 Set the (%) rate of Donor Pay
This is the percentage that will be added to a donation that is made within the selected event. e.g. if set to 10% and a donor chooses to make a $100 donation and opts in to Donor Pay, then the total will become $110 inclusive of the Donor Pay amount. 

Set the Dollar Limit for Donor Pay
You can also set a dollar limit for Donor Pay so that the option is hidden should the donation be over a specified amount. The limit is inclusive of the amount shown. The example below has been set to $100, therefore Donor pay will be deactivated for all donations greater than $100 as the 'Limit' has been set at $100.