The Fundraiser Report will display data for whether a person has chosen to connect to FitBit.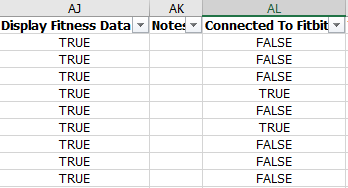 Display Fitness Data - Shows whether a fundraiser has selected to display their fitness data on this particular page (this could refer to either FitBit or Strava data)
Connected to FitBit - Shows whether the Fundraiser has connected their FitBit account successfully
If an Connected to FitBit is TRUE but Display Fitness Data is FALSE then this particular page will not show the fitness data.
To generate a Fundraiser report, see What is a Fundraiser Report and How Do I Generate One?
https://support.gofundraise.com/hc/en-us/articles/220482627