This article covers the basic journeys and segments setup as part of the GoFundraise Campaign Monitor package. These are ready to use within each event organisers account.
In this section we outline:
Journeys
The chart below outlines the flow of these journeys and email series within each.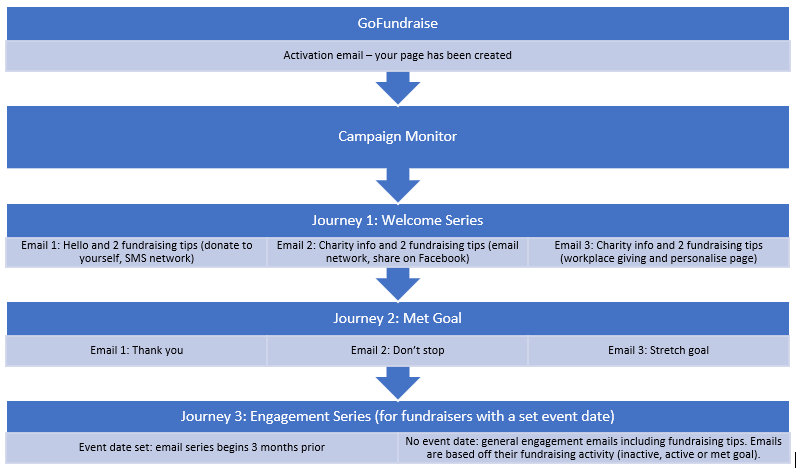 Journey 1: Welcome Series
Set of three emails sent to anyone who creates a fundraising page to provide basic fundraising tips
Journey 2: Met Goal Series
Set of three emails sent to any fundraisers who has met their Fundraising Page Target to thank and encourage continued fundraising efforts
Journey 3: Engagement Series
Sent in the lead up to the event based on either Event Date and/or triggered by Fundraising Activity (e.g. inactive, active, met goal - see Segments section below) to continuously engage fundraisers - e.g. "1 week to go!"
Segments
Email series are generally targeted to certain segments of fundraisers. Three main segments are setup with the package:
Inactive = someone who has raised $0
Active = someone who has raised something but hasn't hit their goal
Met Goal = someone who has hit their goal
Other useful journeys
Event Organisers can also add their own journeys and triggers. Common journeys include:
an email series congratulating a fundraiser when they've hit a fundraising milestone (or trying to encourage them to hit the next milestone)
Separate journeys for team leaders to encourage them to rally their team to fundraise
a specific journey to those who have raised $0 after a certain time period
Example timeline for Engagement Series
Below is an example of the timeline of an engagement series that spans from 3 months prior to the event to a year after.